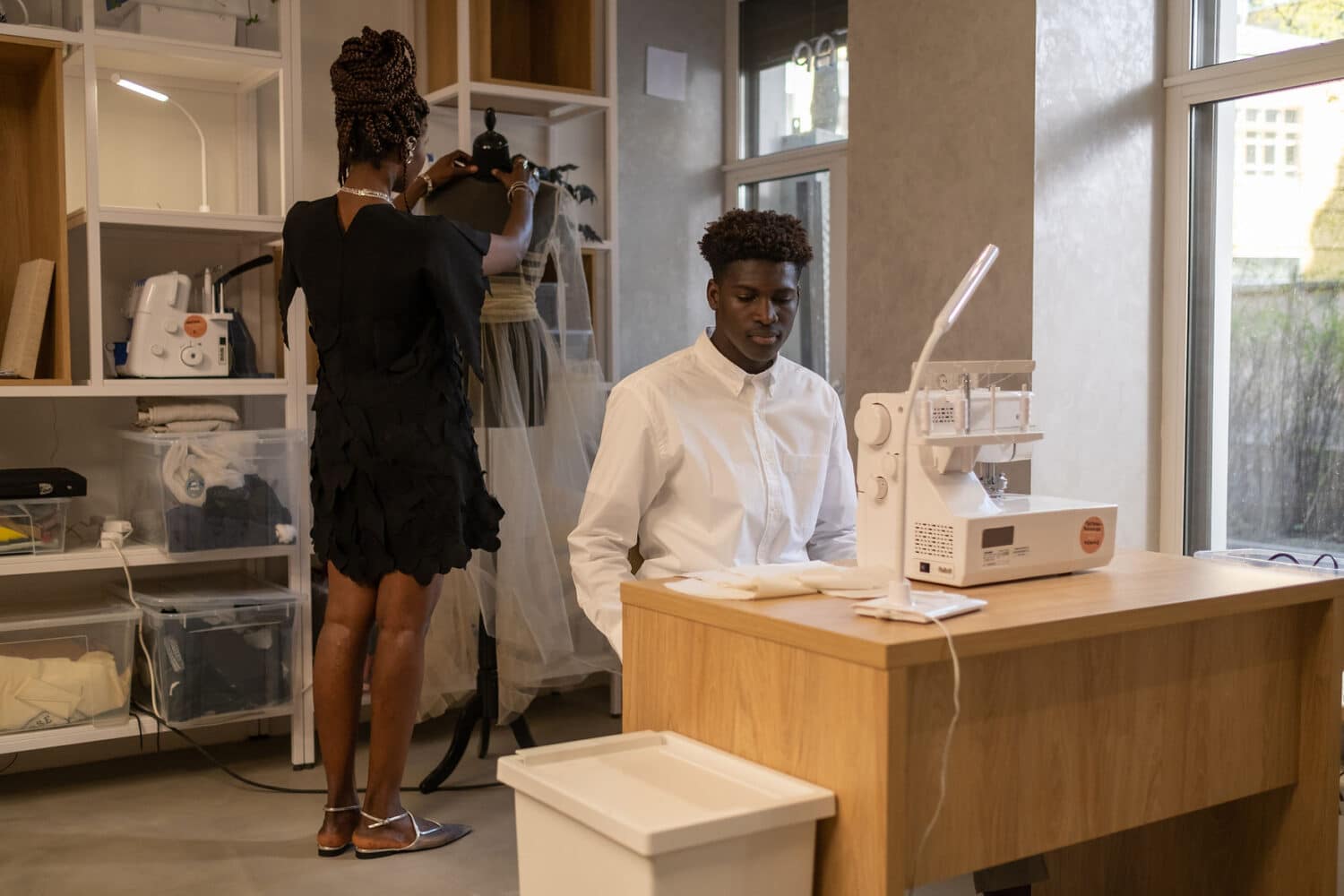 Frederica Brooksworth (CIAFE): "In ten years, Africa will be recognized"
African fashion, of great richness both in terms of creativity and design, is often celebrated in the collections of international brands. It is also the subject of exhibitions as is currently the case in London at the Victoria and Albert Museum (V&A) since July 2. But what about education? Is it sufficiently recognized?
Frederica Brooksworth is a British-Ghanaian researcher and business strategist. She is the founder and executive director of the Council for International African Fashion Education (CIAFE). This defender of fashion and its education system does everything possible to prove that Africa has all its legitimacy in the world of fashion.
Exclusively for Pearls magazine, Frederica Brooksworth presents the CIAFE and its many initiatives to hoist Africa on the world stage.
Could you introduce CIAFE?
Le Conseil pour l'Éducation Internationale de la Mode Africaine (en anglais, CIAFE) est une organisation à but non lucratif dédiée à l'amélioration des normes de l'éducation de la mode en Afrique. Its aim is to fill the knowledge and skills gap, create opportunities for future talent and contribute to the economic growth of the continent. We also support the development of the decolonization of the fashion education within European and North American institutions.
The headquarters of the organization is located in London and we have offices in Accra (Ghana) and New York. CIAFE is committed to uniting the fashion industry and academia. For that, it ensures that educators stay abreast of changing skills due to technological advancements, macro-environmental changes, and cultural influences with the goal that the program meets industry standards.
How would you describe the current fashion education system?
Right now, when you look at African fashion education, the strengths are around areas that focus on pattern cutting. There is more emphasis on this and it is not enough because design is not the only factor in fashion education. Now it's about understanding the business side of fashion, looking at things from a quality control perspective, and so on. Once these points are in place, people must be taught not only how to make clothes that "hold the road", but also to create commercial enterprises that will be able to be exported to other countries and which can also be suitable for Africans. on the continent.
What do you need from other parts of the world for fashion education in Africa to be more recognized?
We don't necessarily need things from other regions. The main thing is to be included in the conversation and to be recognized. This is the most important thing. Once we are included and acknowledged, it will help people appreciate and understand what we do and prevent unconscious bias…
What actions has CIAFE taken to improve fashion education?
CIAFE has several initiatives aimed at helping students and all those involved in fashion education in Africa and beyond:
Book Conversations where we are joined by experts from industry, academics and institutions to discuss books that help students, educators, heads of institutions and authors, who want to better understand the fashion industry African.
We are also hosting a fashion technology conference that educates African fashion students, educators and professionals on how to integrate technology into their academic programs and businesses.
Furthermore, CIAFE's Sustainability Seminar educates the fashion community on how to integrate sustainable practices into their businesses and the importance of including sustainability in the courses of their fashion institutions.
The 'CIAFE Coding Class' is an initiative led by the CIAFE in partnership with the Life is Tech platform, an educational computer program that allows students to learn to code.
Invited conferences feature a wide range of fashion industry experts from various industry sectors who educate fashion scholars, students, researchers and business owners who seek to learn and better understand The fashion industry.
The CIAFE podcast provides insight to fashion community stakeholders by discussing relevant topics and developments within the fashion industry.
The CIAFE Language Center offers a series of language courses that teach enrolled students in the program languages ​​that will help them communicate better with others in the fashion industry. Currently, the language center offers French, Portuguese and Italian courses which take place twice a year.
The Young Fashion Leaders in Africa Fellowship is an annual work experience and learning opportunity that provides opportunities for emerging talent to learn, build and contribute to the growth of an organization. The scholarship is a full-time, fully-funded opportunity for talented young people from across the continent to gain professional experience and ongoing mentorship while learning about the global fashion industry across the globe.
CIAFE has partnered with Bloomsbury to work on fashion business cases. Bloomsbury Fashion Business Cases brings fashion business to life and connects education and industry. The CIAFE Bloomsbury case study was created to develop scientific activity on the African continent.
New initiatives will be launched soon.
African designer : Moshions (Instagram)
What do you think fashion education in Africa will be like in 10 years?
Ideally, education in African fashion will be recognized and respected. The program and structure of studies will be decolonized. Education and the African fashion industry will be a gateway to sustainable fashion because the global world can learn a lot from Africans. There will be more investors ready to invest in the African fashion industry. Africa will not be relegated to the background in global conversations. In ten years, fashion education will experience an important and significant boom.
Who are your 3 favorite African designers?
Ajabeng, Christie Brown and Moshions.
About Frederica Brooksworth:
Currently Frederica Brooksworth is Director of IA Connect (Industry Africa) and Regional Editor (Africa) for Bloomsbury Fashion Business Cases. She has taught at many universities such as London College of Fashion, British School of Fashion and Conde Nast College of Fashion and Design.
She is a board member of BlueCrest University College. Brooksworth has also worked with organizations such as Business of Fashion, FashMash and Style House Files to develop educational programs and resources.
She is currently undertaking a PhD in Education focused on innovating the African fashion education system to bridge the knowledge and skills gap to create employability opportunities and contribute to economic growth.
Frederica Brooksworth holds a Masters in Fashion Entrepreneurship and Innovation from the London College of Fashion. She also follows continuing education courses at the Saïd Business School of the University of Oxford. Finally, Brooksworth is a Fellow of the Higher Education Academy and a Fellow of the Chartered Institute of Marketing.
Her new book "Fashion Marketing in Emerging Economies" published by Palgrave Macmillan should be launched at the end of the year.
Photo: CIAFE